Binary Large Object Store (BLOB)
ForestSafe can securely manage any Binary Large Object file, e.g. PDF's, Lotus Notes ID's, SSH Keys. After managing the original file can be removed, the only way to access it then is through the audited secure Forest BLOB Store.
Depending how your ForestSafe access is configured, you may have access at any number of BLOB store functions and you may also require Approval to carry them out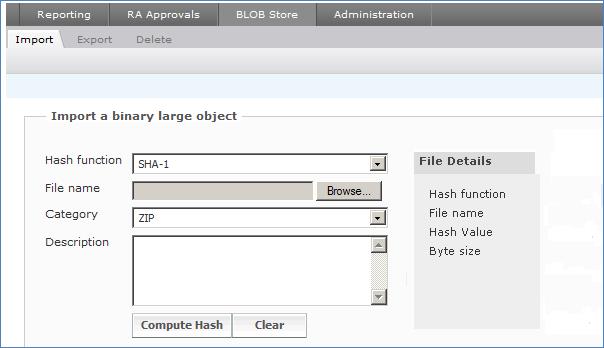 Figure 20 : BLOB Store Import
To import a Binary Large Object
1. Select the BLOB Store Import tab
2. Click Browse... to browse to the file you wish to import
3. Select the Category from the list. If no category is correct, speak to your ForestSafe Administrator, they control the items in the list, and can add and remove them.
4. Click Compute Hash to get the file fingerprint and properties.
---

Figure 21 : BLOB Store Computed Hash
5. You may now check the Hash Value in order to verify this is the correct file.
6. When you are ready click Submit to carry out the Import.
To export a Binary Large Object
1. Select the BLOB Store Export tab
2. Enter a reason to Export
3. Click Export
4. Click Save As to save the BLOB file locally to your workstation.
To delete a Binary Large Object from ForestSafe
1. Select the BLOB Store Delete tab
2. Click Delete
3. Confirm you wish to delete