ForestSafe discovers all Windows Domain computers automatically, through by scanning of configured Active Directory databases.
Management of Windows Domain only systems, requires minimum configuration.
Scanning and Importing
The Scanner feature enables ForestSafe to discover Unix, Windows Workgroup, Cisco and MAC OS-X computers.
Computer systems can be scanned by IP range, or imported from file. ForestSafe Express only supports file import.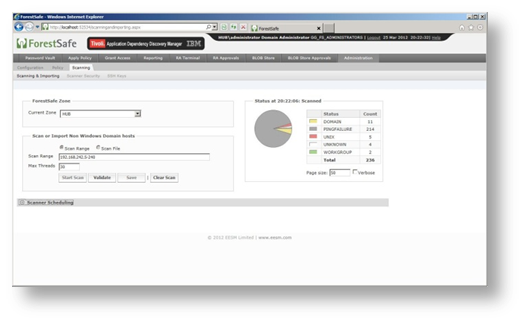 Features and Benefits
Server swaps are supported. This is replacing computers with new hardware but replicating host name and IP address.
The replaced computer remain in the system after decommissioning. Password retrieval on old replaced computers is supported.
The IP range scanner and file import interrogate 30 computers at a time, it's very fast
Scans and file imports can be scheduled, using ForestSafe, to run regularly.